John Dory
Growing to 50 cm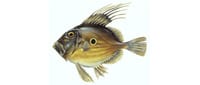 These distinctive fish are common in northern waters, and may be found in estuaries and harbours, from the shoreline down to depths of about 150m. They occasionally reach sizes in excess of half a metre in length. These thin, deep bodied predatory fish are weak swimmers, and their normal strategy is to stalk their prey head on before shooting out an incredible extending tube of a mouth to suck in an unwary victim. John dory are delicious eating, and although they fight poorly, are a welcome catch to both shore and boat fishermen. They will sometimes take small cut baits, but are most easily targeted by using any small fish as a livebait fished on the bottom. They may also be caught by jigging, with soft plastic lures particularly successful.
Tarakihi
Growing to 70 cm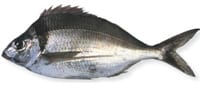 Its food is mostly shrimps, small crabs, mud worms and other small animals including brittlestars. It is a silvery white fish with sometimes a brassy flush when alive, and there is a prominent dark "saddle" mark behind the head. The mouth is small, somewhat turned down, and the pectoral fin has one long ray extending back beyond the vent. A popular table species Tarakihi are targeted by boat fishers using small hooks and shellfish, squid and small cut baits. They may be caught over relatively shallow reefs in the north during winter and are also a common catch in more southern waters during the summer.
Big Game Fish
The Big One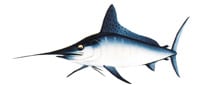 Our main focus in Big Game Fishing is Marlin, (striped Marlin) around the Northland Coastline. There are Blues as well with the occasional Black caught.
New Zealand's big-game fishery has a worldwide reputation. Species fished include striped marlin, Pacific blue and black marlin, and broadbill swordfish. Kingfish (yellowtail), mako, hammerhead, thresher sharks and yellowfin tuna are also popular catches.